Ageing of old and modern concrete structures – Observations and research
K. van Breugel

Section of Materials and Environment, Faculty of Civil Engineering and Geosciences, Delft University of Technology.

T. A. van Beek

Section of Materials and Environment, Faculty of Civil Engineering and Geosciences, Delft University of Technology.
Keywords:
infrastructure, sustainability, ageing, mix design, autogenous shrinkage, codes
Abstract
Ageing of old and modern concrete structures – Observations and research
ABSTRACT
Ageing is an inherent feature of nature. Yet it seems to be a rather new topic in both science and engineering. The main reason for increasing attention for ageing as a topic is the growing awareness that, particularly in industrialized countries, ageing of our assets is a financial burden for the society and affects the overall sustainability of our planet. In this contribution, the urgency and challenges of ageing of concrete structures are addressed. The complexity of ageing problems will be illustrated by looking in more detail to the evolution in concrete mix design and the consequences thereof for the long-term performance of concrete structures. Emphasis will be on ageing of concrete infrastructure and justification of research on ageing phenomena.
Keywords: infrastructure; sustainability; ageing; mix design; autogenous shrinkage; codes.
Envejecimiento de antiguas y modernas estructuras de concreto - Observaciones e investigaciones
RESUMEN
El envejecimiento es una característica inherente de la naturaleza. Sin embargo, parece ser un tema bastante nuevo en la ciencia y la ingeniería. La principal razón para aumentar la atención por el envejecimiento como tema es la creciente conciencia de que, en particular en los países industrializados, el envejecimiento de nuestros activos es una carga financiera para la sociedad y afecta la sostenibilidad global de nuestro planeta. En esta contribución se abordan la urgencia y los desafíos del envejecimiento de las estructuras de concreto. La complejidad de los problemas de envejecimiento se ilustra examinando con más detalle la evolución del diseño de la mezcla de concreto y sus consecuencias para el rendimiento a largo plazo de las estructuras de concreto. Se hace hincapié en el envejecimiento de las infraestructuras de concreto y en la justificación de la investigación sobre fenómenos de envejecimiento.
Palabras clave: infraestructura; sostenibilidad; envejecimiento; mezcla de diseño; contracción autógena; códigos.
Envelhecimento estruturas de betão antigos e modernos - Observações e pesquisa
RESUMO
O envelhecimento é uma característica inerente à natureza. No entanto, parece ser um bastante novo tópico em ciência e engenharia. A principal razão para uma maior atenção por tema envelhecimento é a consciência crescente de que, particularmente nos países industrializados, o envelhecimento dos nossos ativos é um encargo financeiro para a sociedade e afeta a sustentabilidade global do nosso planeta. Nesta contribuição a urgência e os desafios de estruturas de concreto envelhecimento são abordados. A complexidade dos problemas de envelhecimento está ilustrada em mais pormenor através da análise da evolução do desenho da mistura de betão e o seu impacto sobre o desempenho a longo prazo das estruturas de betão. A ênfase é colocada na infra-estrutura de envelhecimento do concreto e justificação da pesquisa sobre os fenómenos de envelhecimento.
Palavras-chave: infra-estrutura; sustentabilidade; envelhecimento; misture projeto; retração autógena; códigos.
Downloads
Download data is not yet available.
References
Darquennes, A., Roziere, E., Khokhar, M. I. A., Turcry, Ph., Loukili, A., Grondin, F. (2012) "Long-term deformation and cracking risk of concrete with high content of mineral additions". Materials and Structures, Vol. 45, No. 11, pp 1705-1716.
Dobbs R., et al. (2013) "Infrastructure productivity: how to save $ 1 trillion a year". McKinsey Global Institute, p. 88.
EuroCode 2. (2004) "Design of concrete structures - Part 1-1: General rules and rules for buildings" (Ref. No. EN 1992-1-1:2004: E).
Jensen, O. M. (2013) "Use of superabsorbent polymers in concrete. Concrete international", Vol. 35, No.1, pp. 48-52.
JSCE (1996, 2002), "Standard specification for design and construction of concrete structures, part I [Construction]" (in Japanese), JSCE, Tokyo, Japan.
Long, A.E. (2007) "Sustainable bridges through innovative advances". Institution of Civil Engineers, presented at Joint ICE and TRF Fellows Lecture. 23.
McCarter, R. (2009) "Louis I. Kahn and the nature of concrete". Concrete International, Vol. 31, Nr. 12, pp. 27-33.
Mechtcherine, V., Reinhardt, H. W. (2012) "Application of Super Absorbent Polymers (SAP) in concrete construction". STAR Prepared by Technical Committee 225-SAP, p. 165.
Mehta, P. K., Burrows, R.W. (2001) "Building durable structures in the 21st century". Indian Concrete Journal, pp. 437-443.
Mors, R. M. (2011) "Autogenous shrinkage – cementitious materials containing BFS". MSc-thesis, TU Delft, p. 63.
Tazawa, E., Miyazawa, S. (1997) "Influence of constituents and composition on autogenous shrinkage of cementitious materials". Magazine of Concrete Research, 49, 178, pp. 15-22
Van Breugel, K., Ouwerkerk, H., de Vries, J. (2000) "Effect of mixture composition and size effect on shrinkage of high strength concrete". Proc. Int. RILEM Workshop Shrinkage of Concrete - Shrinkage 2000. Ed. Baroghel Bouny et al., Paris, pp. 161-177.
Van Breugel, K. (2013) "A critical appraisal of codes as vehicles for realizing on-site quality". Proc. fib. Symposium Engineering the concrete future: Technology, Modelling and Construction. Mumbai.
Van Breugel, K., Mors, R. E., Bouwmeester, J. (2013) "New insight in the combination of autogenous and drying shrinkage". Fib symposium Engineering the concrete future: Technology, Modelling and Construction.
Van Breugel, K. (2014) "Caring for ageing infrastructure – Scope, strategy and responsible stewardship". Proc. 3rd. Int. Conf. on Service Life Design for Infrastructures. Zhuhai.
Van Cappellen, J. (2009) "Autogenous and drying shrinkage", MSc-thesis, Delft University of Technology, Delft, The Netherlands. 2009. p. 95.
Vitruvius Pollio, M., (85-20 BC) "The ten Books on Architecture"
Wittmann, F. H. (1977) "Grundlagen eines modells zur beschreibung charakteristischer iigenschafften des betons", Deutscher Ausschuss fur Stahlbeton, Heft 290, 1977, 42-101.
Zhutovsky, S., Kovler, K., Bentur, A. (2001) "Efficiency of lightweight aggregates for internal curing of high strength concrete to eliminate autogenous shrinkage". Proc. Int. RILEM Conf. Early Age Cracking in Cementitious Systems, AEC'01, Ed. K. Kovler et al., Haifa, pp. 365-374.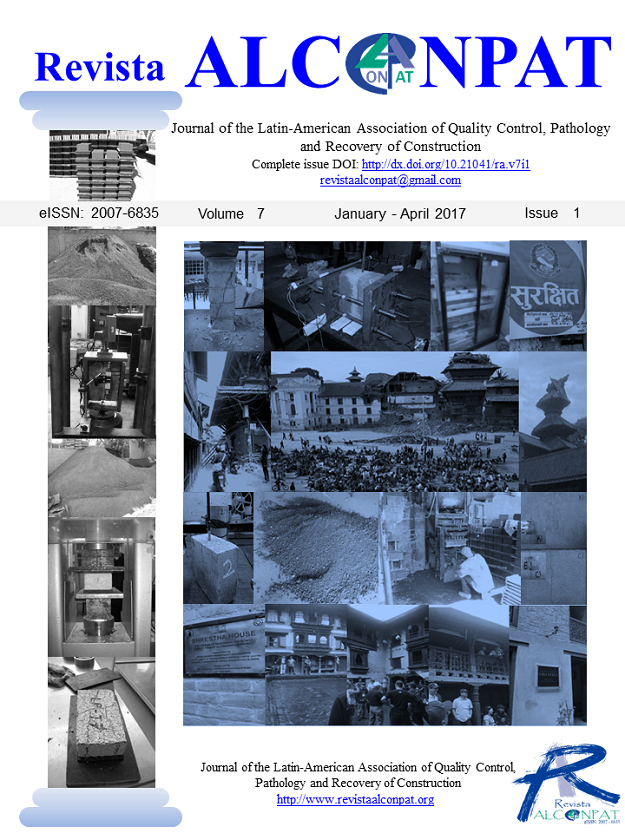 How to Cite
van Breugel, K., & van Beek, T. A. (2017). Ageing of old and modern concrete structures – Observations and research. Revista ALCONPAT, 7(1), 57-72. https://doi.org/10.21041/ra.v7i1.174
_______________________________
License in effect from September 2020
Attribution 4.0 International (CC BY 4.0)
This is a human-readable summary of (and not a substitute for) the license. Disclaimer.
Articles published in Revista Alconpat will be Open-Access articles distributed under the terms and conditions of the Creative Commons Attribution License (CC BY). The copyright is retained by the author(s). Revista Alconpat will insert the following note at the end of the published text:
"Copyright 2021 by the authors. This work is an Open-Access article published under the terms and conditions of an International Creative Commons Attribution 4.0 International License (CC BY 4.0)".
You are free to:
Share — copy and redistribute the material in any medium or format
Adapt — remix, transform, and build upon the material for any purpose, even commercially.
The licensor cannot revoke these freedoms as long as you follow the license terms.
____________________
Under the following terms:
Attribution — You must give appropriate credit, provide a link to the license, and indicate if changes were made. You may do so in any reasonable manner, but not in any way that suggests the licensor endorses you or your use.
No additional restrictions — You may not apply legal terms or technological measures that legally restrict others from doing anything the license permits.
____________________
Notices:
You do not have to comply with the license for elements of the material in the public domain or where your use is permitted by an applicable exception or limitation.
No warranties are given. The license may not give you all of the permissions necessary for your intended use. For example, other rights such as publicity, privacy, or moral rights may limit how you use the material.