An approach to the convent of Santa Clara de Asís in Havana. Study of its conservation status and intervention proposals
Keywords:
pathological processes, patrimonial character, organoleptic inspection, superficial tests, modeling.
Abstract
Santa Clara de Asis Convent High Choir timber truss has been victim of humidity and attack of abiotic and biotic agents which have caused its gradual degradation. For the identification of pathological processes associated with these agents and because of its patrimonial character, a diagnosis study based on an organoleptic inspection and superficial tests was carried out with the available instruments, which allowed identifying the causes. By modeling the structure with SAP 2000 program, we obtained the results that were used to calculate the solutions proposed for the identified pathologies, mainly for the loss of connection between the wall plate and the tie rod beam.
Downloads
Download data is not yet available.
References
Álvarez, L., Basterra, A., Casado-Sanz, M., y Acuña-Rello, L. (2005), "Aplicación del resistógrafo al diagnóstico de elementos singulares en estructura de madera" en I jornadas de investigación en construcción (2-4 de junio de 2005. Madrid, España). Madrid, España: Instituto de Ciencias de la Construcción Eduardo Torroja – CSIC. 165-181.
Arduengo García, D. A., Cruz Pérez, A. (2012), Una nueva lectura del antiguo convento de Santa Clara de Asís desde la arqueología y la historiografía. Arquitectura y Urbanismo, 33(1), 77-90. http://scielo.sld.cu/scielo.php?script=sci_arttext&pid=S1815-58982012000100006&lng=es&tlng=es.
Basterra, L. A., Casado, M., Acuña, L., Ramón-Cueto, G., López, G., Barranco, I., Relea, E. (2005). Avance de propuestas metodológicas para el diagnóstico y análisis de estructuras de maderas históricas. In Actas del Cuarto Congreso Nacional de Historia de la Construcción: Cádiz (pp. 27-29).
Carreras, R., Dechamps, R. (1995). Anatomía de la madera de 157 especies forestales que crecen en Cuba y sus usos tecnológicos, históricos y culturales. v. 1: El texto, v. 2: Las láminas.
DCTA-UPM (1998), "Tratado de rehabilitación: Patología y técnicas de intervención. Elementos estructurales". Tomo 3, Ed. Munilla-Leria.
Espiniella, D. T. (2001). Del barroco colonial cubano. Su expresión en la arquitectura religiosa de La Habana. In Actas III Congreso Internacional del barroco americano: Territorio, Arte, Espacio y Sociedad: Universidad Pablo de Olavide, Sevilla, 8 al 12 de octubre de 2001 (p. 71).
Instituto de Ecología y Sistemas de Cuba (1999), Cuba y sus árboles. Editorial Academia La Habana. ISBN: 959-02-0252-7
López, P. A. H. (2006). El Convento de Santa Clara de La Habana Vieja (R. y. M. C. Centro Nacional de Conservación Ed.). La Habana Vieja. Cuba: Consejo Nacional de Patrimonio Cultural.
Martitegui, F. A., González, G. Í., Herrero, M. E., Álvarez, R. A., Cabo, J. L. F. (2009). Diseño y cálculo de uniones en estructuras de madera. Documento de aplicación del Código Técnico de la Edificación (CTE) Documento Técnico 03: MADERIA. Sociedad Española de la Madera.
Matauco, E. N. (2000). La carpintería de armar española. (Munilla-Lería Ed.). Ministerio de Cultura, Instituto de Conservación y Restauración de bienes culturales. España.
McCormac, J. C. (2002). Diseño de estructuras de acero. Método LRFD (S. A. d. C.V. Alfaomega Grupo Editor Ed. 2ª edición ed.).
Morocho, D. E. E. (2014). Reforzamiento estructural para forjados de madera en edificaciones patrimoniales y contemporáneas. (Bachelor's thesis), Universidad de Cuenca, Cuenca-Ecuador.
Norma Cubana (2003), NC 283: 2003 Densidad de materiales naturales, artificiales y de elementos de construcción como carga de diseño.
Norma Cubana (2003), NC 284: 2003 Edificaciones. Cargas de uso.
Norma Cubana (2006), NC 285: 2006 Carga de viento. Método de cálculo.
Norma Cubana (2006), NC 450: 2006 Edificaciones. Factores de carga o ponderación. Combinaciones.
Otaño, I. M. G. (2002). Métodos Organolépticos de Evaluación y Dictámen. Paper presented at the Conferencia. II: Evaluación Organoléptica y Diagnóstico en Edificaciones. Instituto Superior Politécnico José Antonio Echevarría. Facultad de Arquitectura.
Pérez, A. C., & Rodríguez, R. (2007). Plantas epilíticas del Castillo de La Fuerza en el Centro Histórico de La Habana Vieja, mecanismos de dispersión y distribución. Revista del Jardín Botánico Nacional. Universidad de La Habana, 61-64.
Pérez, A. C. (2010). Plantas epilíticas deteriorantes de la Fortaleza San Carlos de la Cabaña. Revista del Jardín Botánico Nacional. Universidad de La Habana, 219-222.
Rodríguez, O. A. (2003). Patología, diagnóstico y rehabilitación de edificaciones. Monografía. Instituto de Ensayos y Materiales. Universidad Mayor de San Andrés. La Paz. Bolivia.
Rodríguez, O. Á. (2006). Metodología para realizar el estudio de diagnóstico para la rehabilitación estructural de forjados planos de madera en edificaciones ubicadas en el Centro Histórico de La Habana, (Doctorado), CUJAE.
Roig, J. T. (2014). Diccionario botánico de nombres vulgares cubanos (E. Científico Técnica Ed. Cuarta edición ed.). La Habana.
Santiesteban, F. C. (2007). Las armaduras de pares en La Habana Vieja. El privilegio de su conservación. Gabinete de Arqueología, 6, 49-60.
Tejera Garófalo, P. (2000). Patología de las Edificaciones en conservación y rehabilitación de edificaciones. Folleto Maestría.
Weiss, J. E. (1978). Techos coloniales cubanos (E. A. y. Literatura Ed.). La Habana: Editorial Arte y Literatura.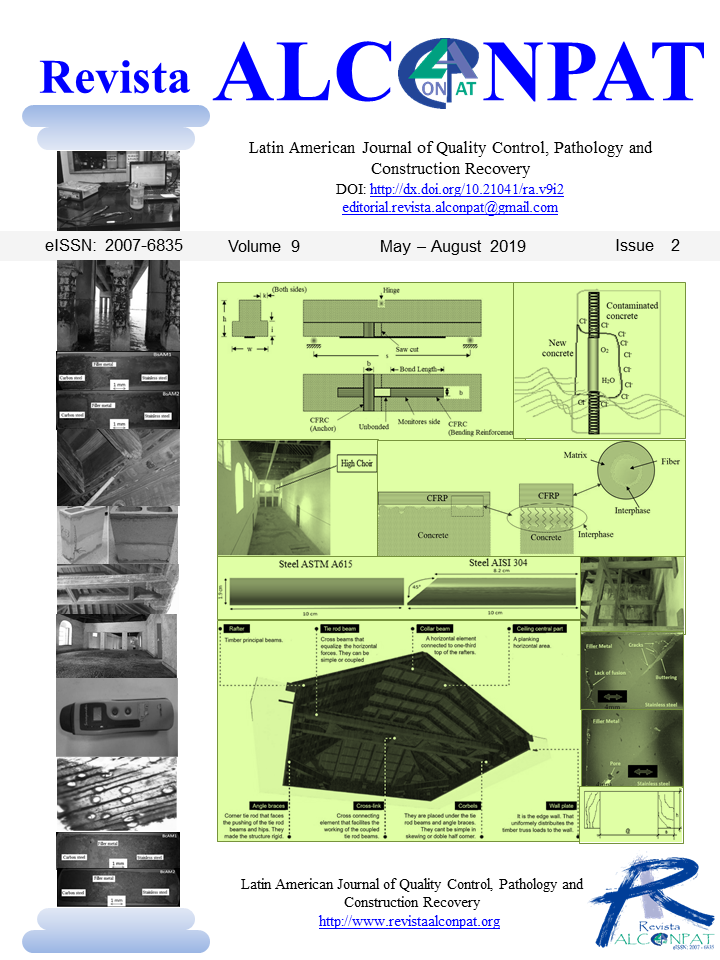 How to Cite
López, J., Acosta Toirac, Y., & Cazañas Marisy, C. M. (2019). An approach to the convent of Santa Clara de Asís in Havana. Study of its conservation status and intervention proposals. Revista ALCONPAT, 9(2), 228 - 246. https://doi.org/10.21041/ra.v9i2.354
_______________________________
License in effect from September 2020
Attribution 4.0 International (CC BY 4.0)
This is a human-readable summary of (and not a substitute for) the license. Disclaimer.
Articles published in Revista Alconpat will be Open-Access articles distributed under the terms and conditions of the Creative Commons Attribution License (CC BY). The copyright is retained by the author(s). Revista Alconpat will insert the following note at the end of the published text:
"Copyright 2021 by the authors. This work is an Open-Access article published under the terms and conditions of an International Creative Commons Attribution 4.0 International License (CC BY 4.0)".
You are free to:
Share — copy and redistribute the material in any medium or format
Adapt — remix, transform, and build upon the material for any purpose, even commercially.
The licensor cannot revoke these freedoms as long as you follow the license terms.
____________________
Under the following terms:
Attribution — You must give appropriate credit, provide a link to the license, and indicate if changes were made. You may do so in any reasonable manner, but not in any way that suggests the licensor endorses you or your use.
No additional restrictions — You may not apply legal terms or technological measures that legally restrict others from doing anything the license permits.
____________________
Notices:
You do not have to comply with the license for elements of the material in the public domain or where your use is permitted by an applicable exception or limitation.
No warranties are given. The license may not give you all of the permissions necessary for your intended use. For example, other rights such as publicity, privacy, or moral rights may limit how you use the material.